IronBelles Video
Video on Demand
Goddess Heather Ass Attack
If you've already purchased: DOWNLOAD HERE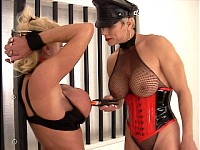 Wearing only a bra, garter belt and hose muscle Amazon Utah Sweet finds herself chained to a wooden horse in Goddess Heather's dungeon. She seems to be asking for help but it is hard to understand what she is saying due to her restrictive slave collar and ball gag. As she whimpers and struggles the muscular Goddess Heather enters the dungeon to begin this slave training session. Goddess Heather starts the session by placing nipple clamps on Utah's huge breasts and then flogging them. Goddess Heather then turns her attention to Utah's shaved pussy. With her hands and feet still tightly bound Utah's clit is stimulated with a vibrator. Utah is then released from her restraints and ball gag and forced to her knees to worship Goddess Heather's heavily pierced pussy. After just a few smacks on her ass from the leather riding crop Utah eagerly eats Goddess Heather's pussy. Goddess Heather then has Utah entertain her by making her fuck herself with a vibrator. Utah fucks herself to orgasm as Goddess Heather continues to flog her breasts and legs. Utah is then told to kneel and remove the Goddess's boots for some foot worship. Utah eagerly complies licking and sucking each foot and every toe. Once Goddess Heather's feet are properly cleaned Utah is told to bend over the wooden horse and has her ass warmed up with a leather paddle. Goddess Heather then produces a long thin vibrator for Utah's red ass.
The hard paddling continues even as the vibrator is shoved up Utah's asshole. Utah frantically rubs her own clit as Goddess Heather fucks and paddles her ass. Utah cries with pain and pleasure as her ass is attacked by Goddess Heather. After Utah cums she is forced to worship Goddess Heather's thigh-high red latex boots. She eagerly cleans each boot with her mouth and tongue while begging to be fucked by Goddess Heather's strap-on rubber cock.
Utah is strapped face down on to the wooden horse with her wrists and ankles securely attached to the legs of the horse. Utah is then flogged and forced to suck Goddess Heather's strap-on cock. The ass attack continues when Goddess Heather forces a red rubber dildo up Utah's poop shoot. The flogging continues even as Utah's pussy is fucked with a huge black dildo and a small white vibrator. Finally Utah is fucked hard by Goddess Heather's huge strap-on cock. Goddess Heather stops fucking Utah periodically and forces her to clean the strap-on with her mouth and tongue. Utah is then repeatedly flogged, fucked and forced to suck Goddess Heather's cock. Finally satisfied with the training session Goddess Heather removes her strap-on, dons her leather coat and hat and leaves. A thoroughly worked over and fucked out slave Utah is left bound in the dungeon to contemplate her next training session with Goddess Heather.
(58 min - 185 megs - 2 parts)
Unavailable
models appearing on this site are over age 18