IronBelles Video
Video on Demand
My Cock Rocks
If you've already purchased: DOWNLOAD HERE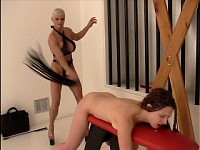 Description: Lean Ramone finds herself tightly tied and gagged on the cold hard floor of Goddess Heatherís dungeon. Goddess Heather enters the dungeon and immediately starts to warm up Lena's ass with strokes from her riding crop and bare hand. Soon Lena is out of her ropes, out if her dress and on her bare knees licking, kissing and worshiping at Goddess Heather's feet. Lena is then placed against the wooded cross where her beautiful tight white ass is repeatedly flogged and whipped. She screams out in pain as her ass takes some extremely hard hits and turns a brighter and brighter red.
Goddess Heather then decides to test Lena's cock sucking skills by shoving a red dildo into her hungry mouth. Goddess Heather knows she will be force feeding this young girl some strap-on cock later in this session and Heather is pleasantly surprised by Lena's strong cock sucking skills. Next Goddess Heather tests Lena's pain threshold by placing clothespins on her erect nipples. Considering the loud screams and painful grimaces Lena's nipples must be very sensitive because this video viewer was almost relieved when Goddess Heather removes the clothespins from the girl's beautiful breasts. This part is almost painful to watch.
After removing the young girl's panties and attaching her to the wooden cross Goddess Heather puts on a rubber glove and explores the inside depths of Lena's tight young pussy. It's a good thing the girl is attached to the cross because as Goddess Heather uses her gloved fingers, g-spot stimulator and chrome vibrator on her pussy Lena's body goes into some strong orgasmic spasms.
Once Goddess Heather is convinced her human toy is totally primed for pleasure she is removed from the cross and attached to the wooden horse for some more ass beating and strap-on fun. After attaching a leg spreader bar and applying the proper amount of lubricant to keep Lena's pussy open and easily accessible Goddess Heather precedes to warm-up the helpless girl with a bare handed spanking and some more vibrator play. Once her ass is red enough and her pussy wet enough Goddess Heather decides it is time for some strap-on action. Goddess Heather starts by forcing Lena to give her a hard, wet, gag inducing blow job. The salvia flows from Lena's mouth as Goddess Heather force feeds the hapless girl a mouthful of strap-on cock. After some extended wet cock sucking and ball licking Goddess Heather grabs her large leather flogger and delivers a wicked ass beating.
Eventually Goddess Heather decides it's time to play hide the sausage with this young girl and proceeds to give her a hard strap-on on cock fucking/ass beating. Once she is satisfied Goddess Heather removes her strap-on cock, gives Lena a sweet passionate kiss and allows the girl to lick, kiss and worship at her feet. Goddess Heather puts a ball gag in Lena's mouth, attaches her to the cross, then after a quick kiss she is left alone in the dungeon to contemplate this slave training session. The physical attraction and obvious sexual chemistry between these two women makes this one of Goddess Heather's hottest videos.
(55 min - 202 megs - 2 parts)
Easy Purchase with Visa/MasterCard/Discover/Amex just 19.99!




The button above gives you access to a full video download..
Recommended for broadband users only..

Purchase securely through NETbilling
This is a one time charge.
Please note: you will have 2 days to download the video once you have your username and password.
Also... write down your username and password once you choose them. Use a VALID email address on the order form as your info will also be emailed to you.
models appearing on this site are over age 18