IronBelles Video
Video on Demand
Nude Workout 3
If you've already purchased: DOWNLOAD HERE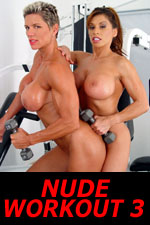 In the opening sequence of Nude Workout 3 Goddess Heather tells the absolutely stunning Devon Michaels 'Let's do a full body workout today.' After watching the video I can tell you this much. When Goddess Heather says 'full body workout' she means a 'F-U-L-L-B-O-D-Y W-O-R-K-O-U-T.' These two beautifully buff athletes' put their muscular well toned bodies through their paces on the universal gym, pumping iron, posing and flexing. These girls work every muscle in their incredibly well defined bodies even exercising their tongues as they 'workout each other's pussies.'
The thing I like most about Nude Workout 3 besides seeing these incredibly toned athletes exercising out totally nude is the fact that these two lean muscular bodybuilders still look like women - beautiful women that have obviously trained hard to develop their sculptured bodies. To watch a topless Devon Michaels doing a chest press exercise with those perfect breasts of hers or a bottomless Goddess Heather bent over at the waist doing a stiff leg dead-lift exercise exposing those fourteen golden rings in her pussy definitely gets me pumped.
Speaking of pumped not only do these modern amazons get pumped up they get oiled up to accentuate every inch of their beautiful bodies. When the glistening Goddess Heather decides to go down on the floor to workout her abdominal muscles Devon decides it's a good time to go down on Goddess Heather. Although the girls are supposed to be working out their bodies soon they are eating out each other's pussies.
Seeing these two muscular female bodies locked in a passionate sixty-nine position almost pushed me over the edge. Watching Devon Michaels lick and suck on Goddess Heather's huge pierced clit actually was more than I could handle but as Goddess Heather says, 'Just because you cum doesn't mean the video is over' and this video definitely wasn't finished. The girls eventually get off the gym floor and Goddess Heather climbs up on top of the universal gym, spreads her legs on each side of the chest press bar and Devon goes down on her hot pierced pussy. Goddess Heather's clit is soon as pumped as the rest of her muscular body. I have never seen a piece of gym equipment utilized so well during a workout routine.
If you like watching truly beautiful buff women working out and eating out in the gym you will definitely love Nude Workout 3. This video rocks! I give it a rating of four tissues and a gym sock.
(51 min - 174 megs - 2 parts)
Easy Purchase with Visa/MasterCard/Discover/Amex just 24.95!




The button above gives you access to a full video download..
Recommended for broadband users only..

Purchase securely through NetBilling, our authorized sales agent
This is a one time charge.
Please note: you will have 2 days to download the video once you have your username and password.
Also... write down your username and password once you choose them. Use a VALID email address on the order form as your info will also be emailed to you.
models appearing on this site are over age 18